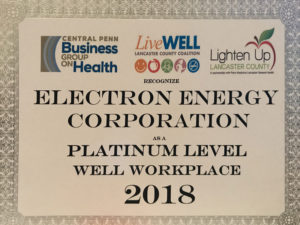 LANDISVILLE, PA (June 11, 2018) ─ Electron Energy Corporation (EEC), an expert developer and leading producer of rare earth magnets and magnet solutions, was recently recognized by the partnership of the Lighten Up Lancaster County Coalition, the Central Penn Business Group on Health, and the LiveWELL Lancaster County Coalition with a Platinum Level Well Workplace Award. The award is presented annually to Lancaster County companies that focus on initiatives and policies to improve the health and wellbeing of employees. The purpose of the award is to identify and promote the most effective programs, so the best ideas can be shared.
Award winners were announced at the 2018 Health Summit on May 24 at the Lancaster Convention Center. The Platinum Level recognition received by EEC is given to organizations that are considered groundbreaking in their efforts to link the promotion of employee health with business outcomes. "This is the second year we've earned the highest honor from the LiveWELL Lancaster County Coalition, and this award acknowledges EEC's commitment to a culture of health," said Human Resources Director Kristina Connell.
Electron Energy Corporation (EEC) is a team of practiced designers, engineers, and producers of rare earth magnets and magnet solutions. From conceptualization and prototyping to testing and production, EEC partners with customers to combine expertise and provide the best possible solutions. Our high quality, high performance magnet materials, such as neodymium iron boron and samarium cobalt, reach into a variety of markets and industries, including aerospace, medical, defense, industrial, oil and gas, and power generation. For more information, visit www.electronenergy.com or call 800-824-2735.
Media Contact:
Scott Murr
Director, Business Development
smurr@electronenergy.com
717-271-8357